Chiropractic care has enjoyed a surge in popularity in recent years as more people seek natural remedies for their health issues. In 2015, 33.6 million Americans aged 18 and over received chiropractic care. (Click here to see a Gallup-Palmer report.)
Despite chiropractic's growing popularity, a few stubborn myths persist to cloud public perception. In this month's blog post, Art of Chiropractic explores and dispels these myths.
Myth #1: Chiropractors are not "real" doctors
Nothing could be further from the truth. If you compare a chiropractor's education with that of a medical doctor, you'll find that chiropractors complete comparable hours in school. Check out the chart below.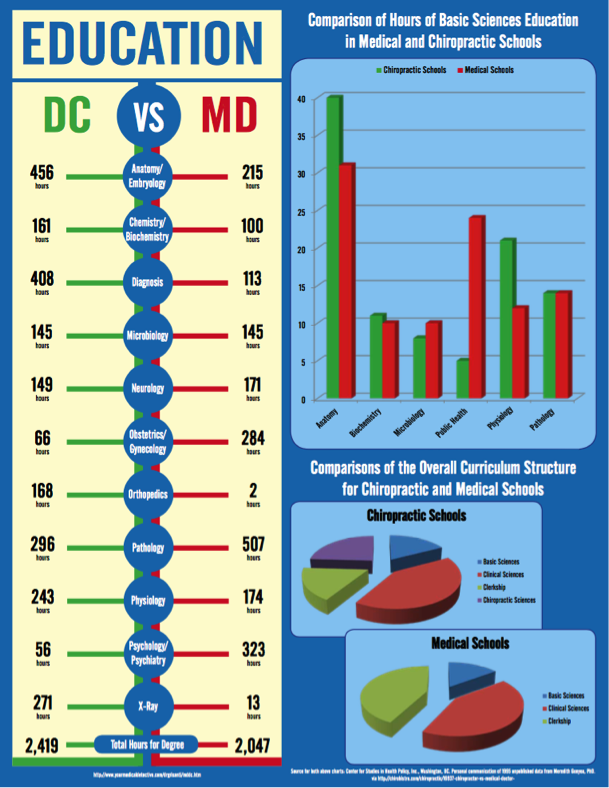 Need a clearer picture? View the chart online.
Chiropractors attend four years of undergraduate studies, then continue with another four to five years in chiropractic school to receive their doctorate. Following that, chiropractors must pass state and national board certifications in order to become licensed.
Chiropractors ARE real doctors!
Myth #2: Chiropractic adjustments are painful
When done with skill and care, chiropractic adjustments are usually not painful. In fact, most adjustments have a near-immediate beneficial effect on a patient's symptoms. There are times when someone comes into the office with severe inflammation and muscle spasms, which may cause initial resistance to an adjustment. That's when adjunctive therapies such as massage, acupressure, cold laser and electrical stimulation can help prepare a patient for a more stress-free adjustment.
The release of endorphins and increased vascular activity following an adjustment help many patients to feel immediate improvement of their symptoms.
What's the bottom line? When done with skill and care, chiropractic adjustments can offer immediate benefits without causing pain.
Myth #3: Chiropractic is only for the spine
As we've pointed out in an earlier blog post, chiropractic treatment is beneficial to far more than just spine issues. Chiropractic has been proven effective for safe, drug-free pain relief, headaches, stress, sleep disturbances, hip pain, and more. In fact, according to a recent report, a growing number of people are relying on chiropractic as their main source of health care. They are looking to chiropractors as their "primary health care providers of 'alternative/complementary' medicine, managing or co-managing more than just musculoskeletal problems."
The notion that chiropractic care is only for the spine is obsolete. Call Art of Chiropractic, where healing begins.
Myth #4: Pain medications are more effective for injuries than chiropractic
This myth is tenacious and stubborn. While pain medications may show more immediate relief for pain than a single chiropractic visit, these meds do nothing to eliminate the underlying causes of pain. Adding insult to injury, pain medications can have serious side effects, including constipation, "brain fog," and even addiction. Please see our blog post about pain meds and the national opioid epidemic.
The side effects of pain medications are not worth the risk, especially when chiropractic care has been shown to be more effective in treating pain. It's not just neck and back pain – chiropractic care is effective on chronic pain, too, due to its ability to eliminate the pain's causative factors. You need to listen to your pain! It tells you when and where you have damage, and allows you to know your limits. If you have pain meds in your system, you may push yourself and damage your joints/muscles even more.
Myth #5: Once you begin chiropractic, you have to go for the rest of your life
There is no simple formula for knowing how many times or for how long someone will need chiropractic care. Each patient must be assessed according to the severity of the problems he or she presents at the time of evaluation. Deep, chronic pain will take longer to treat than an occasional "crick" in the neck. Some patients may need months of care to relieve their pain and restore balance. Others find relief in a visit or two. Some patients need to come in weekly for several months. Others come in monthly, or when they feel the need arises. At Art of Chiropractic, each patient's treatment plan is unique to that person's needs.
Those who make chiropractic their main method of wellness care don't wait until something is "broken" to fix it. Just as they wouldn't wait until their car breaks down to change their oil, they make regular chiropractic care a continuing part of their lives. How often they come is a mutual decision between themselves and their chiropractic physician.
The truth is that chiropractic treatment is not addictive, although feeling great may be habit forming!
Make feeling great one of your primary goals. Call Art of Chiropractic and find out how regular chiropractic maintenance can make a big difference in your health and life.